The Swashbuckling Tale of "Under Drake's Flag"
I am very blessed to get to share with you an exciting opportunity to learn and have fun! What am I talking about?  Well, it is the audio series by Heirloom Audio Productions called "Under Drake's Flag" and I have to admit, I am in love!  I have listened to books on CD before but this is not a book on CD, it is 100% pure audio drama (or theater) and we have been purely entertained while learning something new.  Sometimes those things are mutually exclusive, but not here.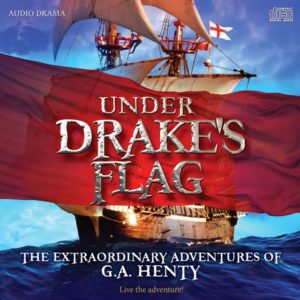 What Is Audio Drama?
Audio drama is exactly what it sounds like, it is a drama that is played out using audio instead of TV.  It allows your brain to create the movie as you listen, utilizing your imagination!  "Under Drake's Flag" is historical fiction. The main character (hero), Sir Francis Drake, is a real person, while other characters are not.  This is wonderful because you learn about things that are historical like the Spanish inquisition while having fun.
What makes it different from a book on CD is that it isn't just a story that is read out-loud, but drama!  There are different actors for each character.  There is loud booming thunder, and crashing waves, screaming and shouting, gun and cannon fire,  and weeping and each sound effect brings you closer the edge of your seat.  You are truly entertained while you learn and it doesn't get any better than that.

This drama is 2 hours long and was created for children 6 to 16 but I believe they are good for any age. With younger children you will explain more, but there is nothing in them they can't hear.  And I must say as an adult, I loved it!
For your younger kids or kids with sensitive hearts there are many spots where you are not sure what is going to happen and the fighting is loud, this can cause some anxiety.  But my daughter loved it and she is pretty sensitive.
G.A. Henty

The author of "Under Drake's Flag" is G.A. Henty, an English novelist and war correspondent in the mid 1800's.  He was a larger than life man over 6 feet tall weighing more than 240 pounds who sported an enormous beard.
Henty was an active man who participated in boxing, wresting, racing his yacht, and traveling the world as a war correspondent.  He lived history and loved it which lead to him writing 122 books before he was done.  His books became so popular that they were essential reading in the English schools.
Heirloom Audio Productions has created 6 audio dramas from G.A. Henty's works and I am so happy to be reviewing one for you today and 3 others over the next 2 months.
Sir Francis Drake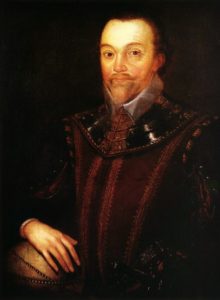 Sir Francis Drake was the first Englishman to circumnavigate the globe.  He was considered a hero  in England and a pirate in Spain.  He captured 93 Spanish ships increasing his wealth and influence, yet never lost sight of his Christian values.  Spanish prisoners wrote about how well they were treated by Captain Drake and that they held great respect for him.  He was knighted by Queen Elizabeth aboard his famous ship, the Golden Hinde.
Captain Drake was instrumental in helping defeat the Spanish Armada when they invaded English waters and his actions paved the way for English settlers in early America.  He was a great man and his influence is still felt today.
Under Drake's Flag
I will not be giving you a blow by blow account of what happens because I don't want to ruin your experience.  Here is a great clip to give you a feel for what you are in for.
"Under Drake's Flag" is about a young boy named Ned who leaves home to learn how to become a man, and his lessons are many.  After Ned rescues a man from drowning in the raging sea He is asked by Captain Drake himself to take a place aboard his ship. Ned is beyond honored to be asked by "the" Captain Drake and that is where his adventures begin.
Honor and Godliness
Ned will soon see that Captain Drake is a man of high honor and morals and that he believes the Bible to be the highest instruction book for all men. One of the things that Captain Drake shares is how love is God's command, even loving your enemies.  That is evident when you see how he treats prisoners.  He orders his men to touch none of the woman, nor any man without a weapon. His prisoners are treated with great respect.  This makes a huge impact on Ned and that is seen throughout the story with his actions.
What I loved most about Captain Drake, was that he was a man bigger than life, he believed in God's sovereignty and he believed in action.  He prayed and when he was done, he didn't just sit and wait for God to do something, he got up and did something himself.  He lived a practical faith!  What if we all did that?  What changes would happen in this world as a result.  Ned and Captain Drake are great role models for our kids and for us.
Sir Francis Drake's Prayer
To show you the level of trust and belief that Captain Drake had for the Lord here is his prayer.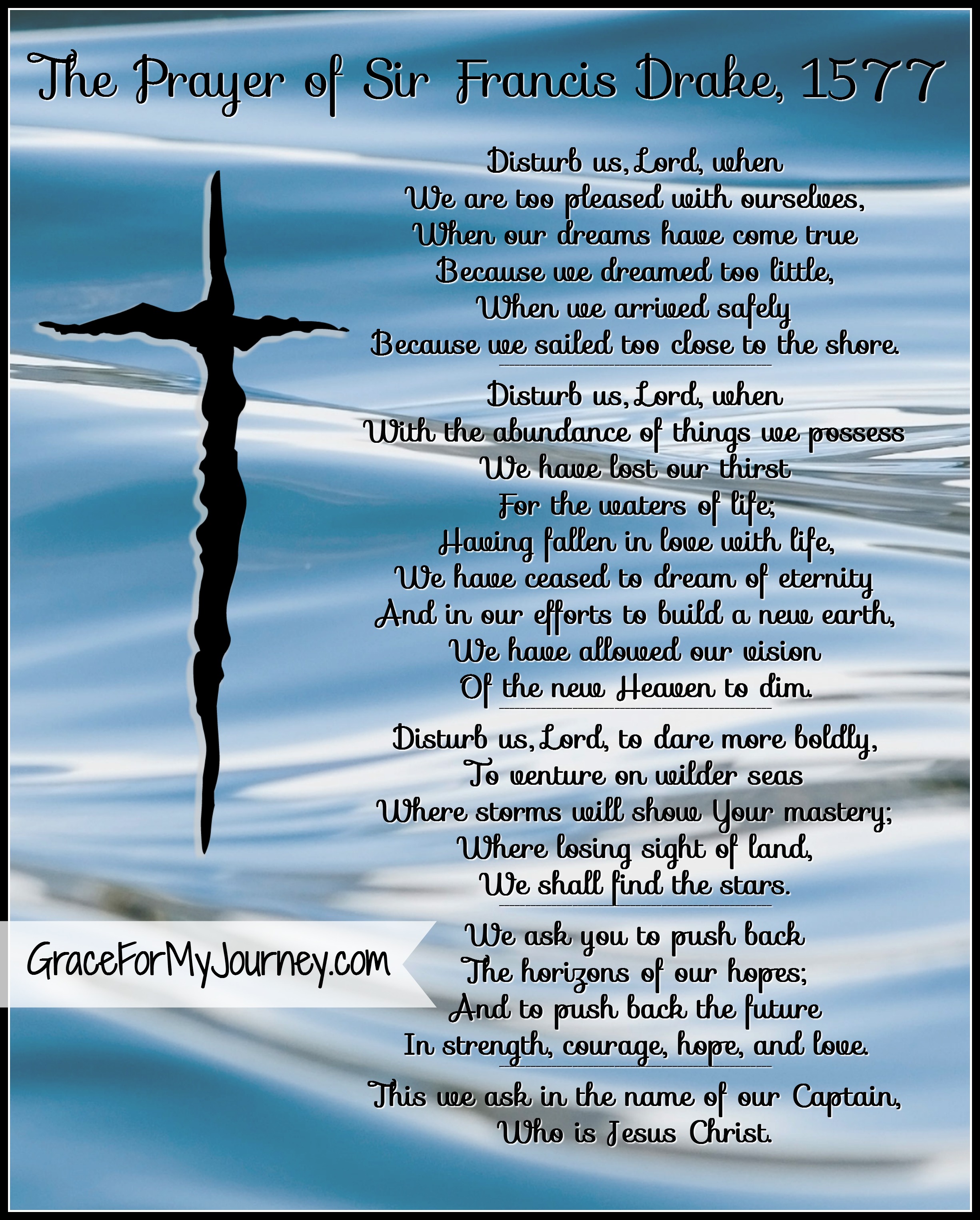 His prayer leaves little to the imagination when it comes to his faith in Christ.  Does your faith or your children's faith run this deep?  Do you want it to? I do.
Was It Exciting?
I thought it was riveting and my daughter squirmed in her seat through most of it.  She grabbed her knees pulling them to her chest and held her breath through the shark scene.  She screamed at characters when they were in danger and worry marked her face as she listened about the ship wreck. There were moments where you could see that she was right there in the midst of everything, and so was I.  We loved it!
What I Loved Most
~High Quality – This CD audio drama series was created with the highest of quality, from sound, to actors and the study tools. It seems nothing was spared in the making of this audio drama.
~Not Too Long – This CD was only 2 hours long, the perfect length.  I was worried that it would be too long and drawn out like some books on CD.  However, this is so much more than that.  There was no droning on because of the quality acting and we were able to stay engaged through the whole thing.
~Study Guide – You receive the basic condensed study guide inside the CD packet but you also get a link to the website where you can download the full version of the study guide.  That was a wonderful surprise.  It would be easy to use this information and expand what is offered to create a full unit study.
~Bible Study – At the end of the study guide inside the CD package is a condensed Bible study and one to download that is more meaty.
~Strong Moral Lessons – This is great for boys to see the strength of men who follow Christ and what that looks like even in difficult situations.  But is equally helpful for girls.  My daughter loved hearing how Captain Drake used honorable methods in all he did.  Especially when he dealt with his enemy.
~Mom's Dilemma – As a mom who has a daughter growing faster than I hoped for, this gave a wonderful example of a mother and her love for her child.  It was a love so deep that she almost let fear hinder her child's path, but she faces her own fears instead.  We should all live this way.
~Courage – Ned is often afraid when he faces situations, but he faces them anyway.  I love how it backs up the premise that courage is doing something in the face of fear.
~Role Model – Captain Drake is an amazing role model.  He takes Ned and Gerald under his wings and they get to see how a real Godly man lives life under the love of Christ.
~Not Just For Homeschoolers – Though this is a review for the homeschool community anyone would love it! It is great entertainment and I think it would make a wonderful gift for any friends that you have.
What I Wished Was Different
~Subtitles or Script – I know this isn't a movie, it is an audio CD.  However, there were parts that were hard to hear for me, and hard to understand for my daughter due to the loud cannons, guns and screaming.  It would be great to have a script for those of us with hearing issues so we could follow along.
~Printables – Having the option to print out the lessons and the Bible studies was wonderful. However because the background was antique, the cost of printing was high.  I would have loved a plain text download or an option to buy a book.
What comes with "Under Drake's Flag?"
When you buy the CD's you will get the following:
2 CD's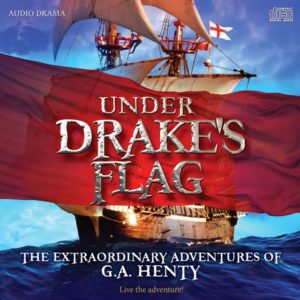 Condensed Study Guide
~Listening Well – Questions that help children recall what they just listened to.
~Thinking Further – Questions that help your children to think, draw conclusions, speculate intentions and mindsets of the characters and sometimes do a bit of research. They get to explore what they would have done in a given situation.  There are some great discussion questions that help you learn where your kids are at in certain areas.
~Defining Words – There are a list of words that may not understood.  They have an opportunity to look them up and define them so that when they are listening the story they understand it better.
Condensed Bible Study
~Bible Study I: Godly Character – This helps children see what the Bible has to say about what kind of character we should have.
~Bible Study II: True Manhood – Though this is for manhood, there are plenty of verses that will serve our daughters as well.
~Bible Study III: Confessing Christ – This is a great study on how to live life without compromising your faith in Christ, no matter what the consequences might be.
Free Download of Full Versions of the Study Guides and Bible Studies.
My Final Thoughts
All in all, this is a tremendous work of art. "Under Drake's Flag" is well thought out and is entertaining historical fiction that leads the readers into great discussions on many levels.  It can be used for curriculum or for family fun.  It exudes love, honor and most importantly, Christ.  I highly recommend this to anyone who loves history and to those who do not.  Those who don't will learn something and not even know it 😉
Where To Get It
To purchase "Under Drake's Flag" I have an amazing offer that you can take advantage of.  Click here to read more about it.  When you get there you will find testimonies from people like Kirk Cameron and Sean Astin.  You will also find a special gift you can receive if you are one of the first 27 people to purchase this audio drama.  Best of all, you will receive 67% off of your purchase!!  How generous is that?  You will need a code for that discount so please make sure to grab it.
What's Next?
I will be leaving for a grand adventure with my family called, "Vacation" soon!  I can't wait!  While I am gone we will be listening to "In Freedom's Cause"!  I can't wait!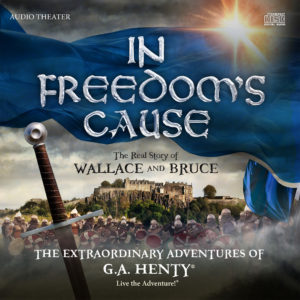 If you have any questions please feel free to contact me.  When you purchase your own I would love to hear what your favorite part was!
Don't forget to go check out the page for "Under Drake's Flag" so you can get the coupon code to receive 67% off and get a special gift as well!
What would you like to see?
Is there something you would like to learn more about or have reviewed that falls into the category of faith, family or homeschooling?  Please let me know I would love to help you.
*I received this audio drama for free to review but received no other compensation.  Regardless, my review is 100% honest.
Save