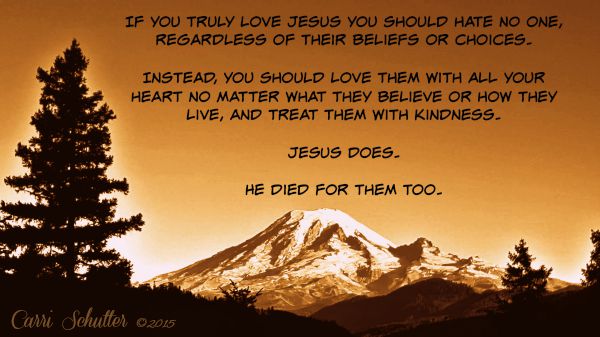 There is so much Hate going on in our world.  This group of people hates that group of people and that one hates this one.  It is heart-breaking.  Even those who call themselves "Christians" fall into this trap and I see them bashing those who don't believe as the Bible tells us.  As a "Christian" myself, I would challenge you this way… If you truly believe in and love Jesus you should hate NO one, regardless of their beliefs or choices.
You may disagree with them and not like their choices.  You may even have to make difficult choices regarding participation in some of their choices, though it should always be done with love.
BUT… as far as that person goes… you should love them with ALL of your heart no matter what they believe or how they live and you should treat them with kindness.  Jesus does.  He died for them too.
To everyone reading this… YOU are LOVED and greatly cherished!
(Definition of Hate: intense or passionate dislike.  1 John 3:15 "Everyone who hates his brother is a murderer; and you know that no murderer has eternal life abiding in him.")
(Definition of love:  An intense feeling of deep affection.  Matthew 5: 43-48 "You have heard that it was said, 'YOU SHALL LOVE YOUR NEIGHBOR and hate your enemy.' But I say to you, love your enemies and pray for those who persecute you, so that you may be sons of your Father who is in heaven; for He causes His sun to rise on the evil and the good, and sends rain on the righteous and the unrighteous. For if you love those who love you, what reward do you have? Do not even the tax collectors do the same? If you greet only your brothers, what more are you doing than others? Do not even the Gentiles do the same? Therefore you are to be perfect, as your heavenly Father is perfect.)
(Definition of a True Christian:  A personal follower of Jesus Christ in word and in deed.)