I am so excited!!!! Today is day one of an amazing blog party where some pretty amazing homeschool bloggers are having a Blog Party!!!  Whoop Whoop!!! Yep, you can see me doing the "Happy Dance!"  I am pretty excited about this amazingly great idea.  Join 30 incredible homeschool families as we share our homeschool approaches, routines and curriculum for 30 days.  Just follow the link over to They Call Me Blessed.  We are going to have so much fun!  The blog party is in the style of an interview, so there will be some fun questions (10 to be exact) with some great answers that will help you on your journey!
Look for Me at 30 Ways We Homeschool!
Yes, look for me on June 9th, I will be there!  I am excited to share with all of you a little bit of my homeschool journey and what we are up to next year with all the bits and pieces that make homeschooling for us the right fit.  So don't forget, June 9th, that is my day to share with all of you. 😉
Where To Find The Blog Party!
Where do you find this amazing blog party?  I am so happy you asked!  If you are on Facebook you can join the event 30 Ways We Homeschool to keep up on all the posts, since there will be a different blogger every single day sharing what works for them, this is a great way to keep up!  Or if you like the more direct approach you can go to Ana's website, They Call Me Blessed, there they will list each persons blog post under the "Homeschooling" tab.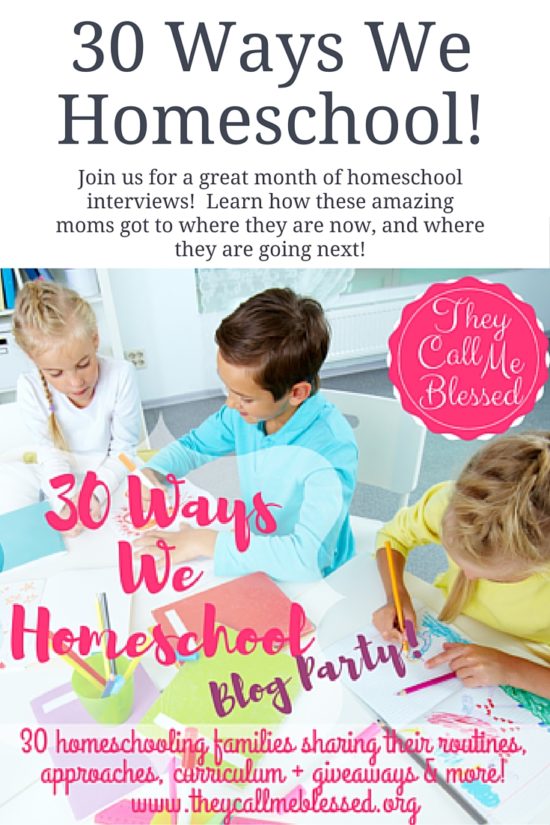 Don't miss this great blog party!  You will learn so much and it is sure to inspire you in your homeschool journey!  There is nothing more important than our kids!  Let's have fun helping them learn.  See you at the party!
P.S.  There are some HUGE giveaways happening!  Don't forget to sign up for them, you will not want to miss out.  Just look for the giveaway tab at the top of her blog!  You can't miss it!  Blessings!