Writing!  What a difficult task! Do you have a hard time getting your kids to love writing?  Let me guess, for some of you it kind of goes like this~    You ask them to write. You are polite and loving and caring and you truly want to help them enjoy and love writing.  So you embark on this journey and bring all your tools before them and just can't wait to see their shining faces as they read their masterpieces aloud.  Once you get started though, you quickly realize that all your hard work, perfect curriculum and high expectations are just that… and the results you are getting are far from that happy celestial choir of praise you thought you would hear by now and has turned into nothing more than moaning, groaning and bare knuckling while trying to decide if pulling teeth is necessary!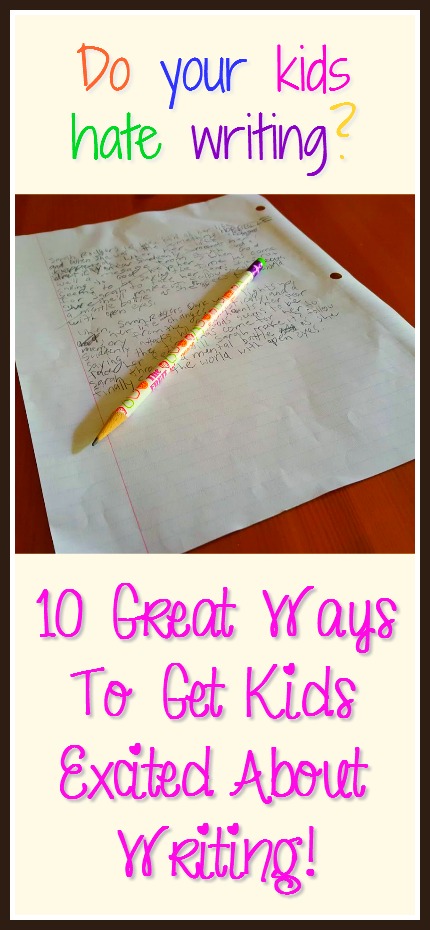 Does this sound right? If this is your home then you are like most people I know who have embarked on the writing journey.  Unfortunately some give up all too early and that is heartbreaking.  Even though not everyone can be a genius writer selling hundreds of books I truly believe all our kids can learn to love to write, and I am going to share with you what I have learned along the way.
1. Play Time
One of the best things you can do to help your kid's writing is to help your them cultivate a good imagination.  Let them have ample play time.  They need it like we need oxygen!  How many have noticed that in school play has all but been removed from their day?  It is destroying our kids!  Not only do they need it to get the wiggles out but they need it to develop their imagination and without that they will have a terrible time writing.  They need to have time to act out all the things they learn through the school day, TV time, books, and games.  without imagination our kids lose out on so many things, including the love of writing.
2. Read a Lot
Read so much that it feels like your home is overflowing with books.  Expose your kids to great stories, true and fictional.  Pick some books for them and then take them to the library and let them pick some for themselves, that is where you will find out what they love and what is interesting to them, nurture it!
3. Read Aloud Everyday
Yep!  Read aloud every single day!  I know that sounds crazy but believe me, it will make a world of difference.  Now I know that there will be some days that it just can't happen, but you know what I mean, make it a real priority.  I read to my daughter before bed every single day (most anyway) and it is something that both of us still look forward too, and she is 11.  It is the highlight of my day with her.  We love all the exciting adventures we have right there in her room.
I pick books that are above her reading level so that she can hear great sentences and writing styles.  She needs to hear the way the words can roll off your tongue to create excitement and that excitement creates a desire to read more.  It is great to have them read aloud to you too.  I often have my daughter read her own stories to me as well, then she gets to hear how it sounds when it rolls off her tongue and it will help her see where she wants to change it for the better.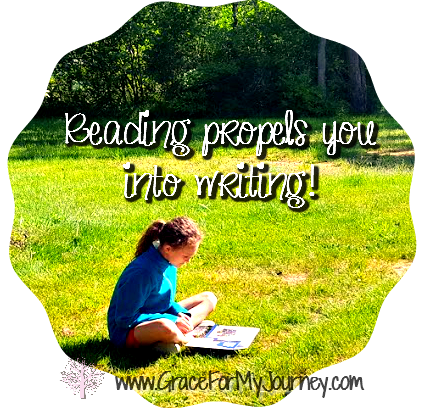 4. Writing What They Know
One of the things I started doing early on was note-booking.  There were certain things that I wanted her to learn but didn't care for all the testing and busy work that came with some of the curriculum.  So I decided when we found a science and a history curriculum we liked that when she was done reading for the day she would write the most interesting thing that she learned.  Half a page. That was it!  It was amazing to see what she found interesting and how much it was that she really grasped and remembered.  Other days it was hard to pull something out of her which was due to unexciting information sometimes, but the majority of the days were (and are) filled with exciting information that I didn't think she would remember.
For our note-booking we just use a spiral notebook she loves.  I know you can actually create pages or go buy them and get them for free on some sites and make them pretty, but for us we found a blank spiral was best, it had no special boxes to fill in just pages for her to write.  If she wanted to draw a picture she could.. but we will talk about that later! 😉
5.  Be a Model
This one might be the hardest, but we often expect our kids to do what we say… not to do what we do.  That isn't the best tactic if you didn't know.  Modeling is always the best way and it is no different for writing.  Let them see you write or journal.  Write with them sometimes.  Do their assignment with them!!! I know… crazy right!!?? But what better way to show them that it is important than to literally show them… be their example.  Read what you write to them.  My daughter reads most of my writings that I post here.  She has feedback too!  Sometimes it is surprisingly good, other times it is just her writing style coming through, but either way she is thinking about writing and working at it even if she isn't writing at that moment.
6. Fun Tools
Give your kids fun tools.  Now, I don't know about you but I LOVE a good pen, beautiful paper or awesome journal.  Our kids are no different.  Make sure they have what they need to be creative.  Pens, pencils, markers, crayons, notebooks with fun pictures, note cards, journals, pretty stationary (yes I still buy stationary 😉 ) and a fun place to write.  Writing is hard work, lessen the fear and anxiety by giving them a fun place to play, I mean write! 🙂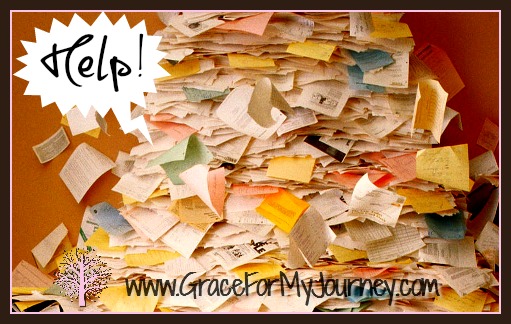 7. Brainstorming
No one likes brainstorming… I don't!  lol  But sometimes we need to.  If so, help your kids.  If they are talking about something specific pull up a couple books on that subject online at Amazon and look at the table of contents, ask if any of those sound interesting and go from there.  Just don't make them do it alone until they get a good handle on it, and even then, help.  We aren't going to hurt them by helping… as long as we are helping, not doing.
8. Illustration
Do your kids like to draw?  Let them.  Sometimes I let my daughter draw first then tell a story about the picture.  You can read a story and have them draw what you are reading about.  Or have them write then draw to match their story.  Either way, when creative juices flow sometimes it is easier for kids to share in the form of a picture… help them stay creative.
9. Forget It
Yep, forget it! Forget spelling, grammar, handwriting and neatness.  Just get them writing.  Once they are doing it more often and are not so intimidated by it then you can take one paper a week (or whatever your schedule is) and do all the beautifying you want with it.  As you do that they will get better on their own.  But don't make every single one a 5-hour editing ordeal or they will hate it no matter what.  I have broken it down into themes.  This week we will be checking spelling, next handwriting and neatness.  If we mark up their papers to the extreme they won't want to ever do it again.
10. Celebrate
Yep, no matter how good or bad they write, celebrate, encourage and reward them for their hard work.  Writing is hard!  Writing can freak anyone out so encourage them.  Play it up.  Make them think they are brilliant!  The more they feel they have succeeded the more they will want to create.  It doesn't matter how good their writing is when you are trying to get them into writing, it only matters that you are cultivating a love for it. Once that is there, you are golden!
Now, those are my tips and they have served me well so far.  My daughter has written countless short stories and poems, several songs, and several chapter books.  She is writing one right now and I am going to share her synopsis with you.  As you can see, she is loving what she is doing and I am loving her work too. To me she is doing a great job but most importantly she is loving writing.  What more can I ask for?
Here is her synopsis 🙂
"When Sarah Rogers' dark world lights up, her life changes drastically and a memory from the past haunts her, fear suddenly attacks.  When God seems to be saying the time has come for her to face her fears, will Sarah make it?  Follow Sarah through a mental battle as she finally sees the world with open eyes." ©graceformyjourney
Yep, you can call me a proud mom.  Now, I know you are all proud moms too.  Get out there and have some fun with your kids.  If you have any questions or extra tips you find super helpful please leave them below!
Here are a couple resources you can check out to help in your writing quest. I love them.
I would love to hear your feedback and even your kids stories!!  What is your favorite way to help your little one write?