In less than 30 days I am speaking at a women's retreat and I am filled with so much excitement and so many emotions that at times they threaten to overwhelm me.   It's a good thing I am relying on the Father to make sure that doesn't happen!  The name of my talk or speech or whatever it is called, lol…  is "Relentless Pursuit" and I am passionate about it!  It is my story and it glorifies the work of the Father in my life and for that I am humbled to have this opportunity to share God's great love with others.
I am working on my speech today along with other things I need for my speech and I have decided to  share some of my heart here with you.  So you get a sneak peak at a little of the Father's heart towards me all my life.  And it is His heart for you as well.  If you didn't know, He relentlessly pursues you too!
Our God is a good God and even though people do horrible things in this world, He never leaves us to deal with any of it alone.  He adores us, he never walks away or turns His back.  I hope you enjoy my poem below.  It is His heart towards us… towards you.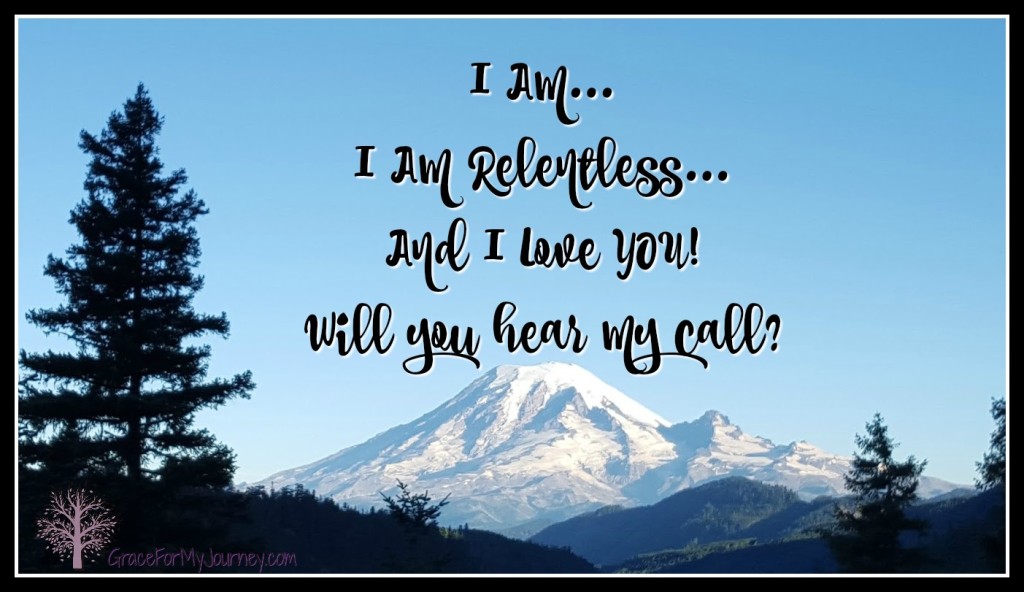 Relentless Pursuit
My precious child, I created you,
from darkness to light you came.
Your enemy pursued you like a rabid dog,
he was eager to send you back into the darkest abyss you have ever known.
Yet… My pursuit was greater, stronger, deeper and much more fierce.
Each passing day as he followed you, dogged you and made himself known to you,
MY pursuit grew relentless, MY passion greater.
You… are… mine.
Did he not see that?
As he saw my love for you and your response toward me he…
increased his attacks upon you.
He fought to remove all of me from your existence and leave you utterly alone.
I am not as blind as he thinks,
I can see his works and tricks.
He forgets that if he brings you to your end,
in your weakness… I… AM… MADE STRONGER!
Every day I become more and more relentless in My pursuit of you.
Oh, but I am subtle, gentle and loving in my pursuit.
I don't push, pull, grab or steal like the enemy does.
I don't rip you from all you know to make you mine.
I show you time and time again with a gentle whisper and a loving touch that,
I… AM… HERE.
I shower you with gifts,
they are all around you.
I gently pick you up off the ground and wipe away all of your tears,
I wait patiently for your eyes to lift to mine,
And when they meet… what beauty.
I am gentle and persistent, loving and dependable.
I am eager and ready to be your Savior, your caretaker and your comforter.
I am ready to lead you beside peaceful waters and,
I… Will… Never… Leave… YOU!
I am fiercer than your darkest enemy!
I am forever pursuing YOU.
My covenant is unending.
My peace everlasting.
My protection is perfect.
I Love YOU!
I AM…
I AM… Relentless…
I AM your Father…
Will you hear My call?
Carri Schutter ©2016
Your Father loves you and He is calling you to Him!  Will you hear him?  Last year He gave me "My Beloved"… He is calling us… please hear Him!  He has a relentless pursuit because of His great love.  Run to Him!