One of my most favorite blogs ever is The Nourishing Home!  If you don't know about them you are really missing out.  Kelly's blog is about eating healthy and doing so in such a way that it is joyful and fulfilling.  You truly see the Lord's heart when visiting her site.  What more can you ask for when getting healthy?
Kelly has a weekly meal planner that she puts on her blog and it has always been free!  I have found so many new recipes by following her plan.  It is amazing.  Her meal plan isn't just for dinner though, she uses the left-overs to plan out the breakfasts and lunches of the next day!  YAY!!!
I don't use her entire meal planner because there are only 3 of us and it tends to be too much for us.  So I pick 4 days and that is what we have used in the past for our planner.  You can see her most current meal plan here.  Meal Plan Monday: May 27 – June 9
One of my favorite meals comes from Kelly.  It is her Turkey-Veggie Meatloaf (GF Option).  Just click the title and you can see her recipe there.  I am not a lover of Turkey though, so I made some changes that I thought my family would love and my goodness… do they love it!! EVEN my extremely picky 8-year-old Muppin!  She would eat it every single day of the week if I let her.  She will even eat it over my chicken nuggets!  That says a lot 😉
I make mine almost exactly like Kelly does. Below you can see my changes below 🙂  With those changes you now have to call it the Chicken-Veggie Meatloaf though 😉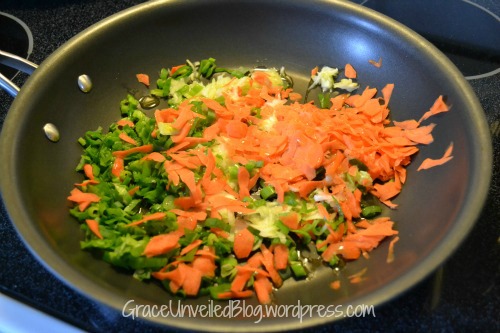 First I saute these:
1/4 cup finely chopped green onion
1/4 cup finely chopped carrot
1/4 cup finely chopped organic zucchini
1/4 tsp Celtic sea salt
1/4 tsp garlic powder
1/8 tsp onion powder
Then I crush either the gluten free crackers or toasted gluten free bread (you can use regular ones if you do not need the gluten free option).
I then mix the rest together in a bowl:
1 large egg
1/2 cup crushed crackers or bread
ground chicken
cooled sauteed vegetables
Then using my hands I mix them all together, not too much though or it toughens the meat.
I don't like to make the meatloaf in a pan because it takes too long to cook, so I use a cookie sheet and form them into individual size loaves.  I don't make them very thick either, maybe an inch or so, because I like them to cook quick. (Hint, I use a meat thermometer to test how hot they are in the center so I know when to take them out.  That way I don't over cook them and make them all dry.)
I then add dried red pepper to the top of the adults.  Double for my man, he likes them HOT..  lol You can see one is made into a rectangle, and that is because I like to cut it into small rectangles after it is cooked to make it fun for my daughter, she can eat them like fries.  Anything to get them to eat healthy right 😉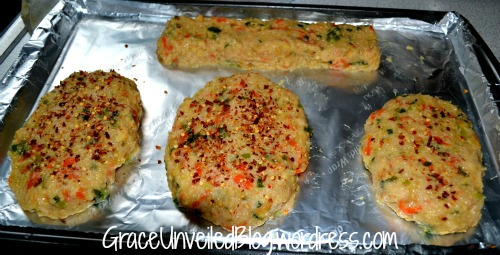 They only take 15 to 30 minutes to cook depending on how thick you make them.  When they have 10 minutes left that is when I put the topping on mine and my hubbies, the Muppin doesn't like topping.  We don't use ketchup we use BBQ sauce.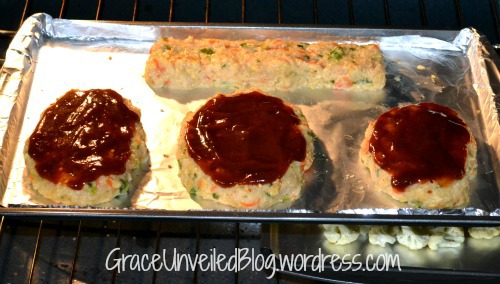 Don't forget you can roast your veggies at the same time 😉  When all is said and done, this is the most moist meatloaf you will ever taste!  Much more figure friendly too!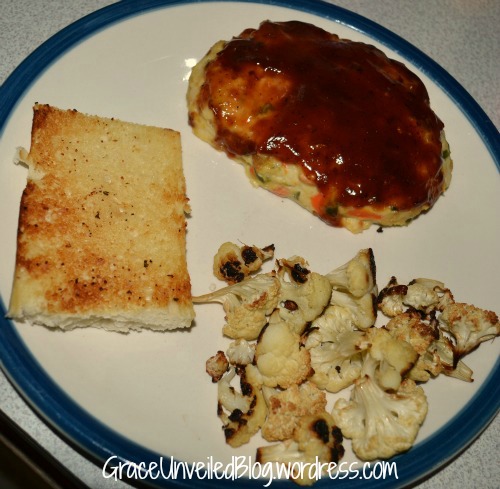 If you are doing Weight Watchers this 3 ounce meatloaf has only 4 points, without the sauce it would be 3.  Amazingly light meal and yet filling and delicious.  Thanks Kelly at The Nourishing Home for this wonderful idea!  I hope you all enjoy and are inspired to treat your body good!