One of the things I love about homeschooling are the opportunities you might not get if you are going to a public or private school all day.  One of those things is horse riding lessons!  And yes, they are part of our homeschool curriculum, can you say life lessons about responsibility!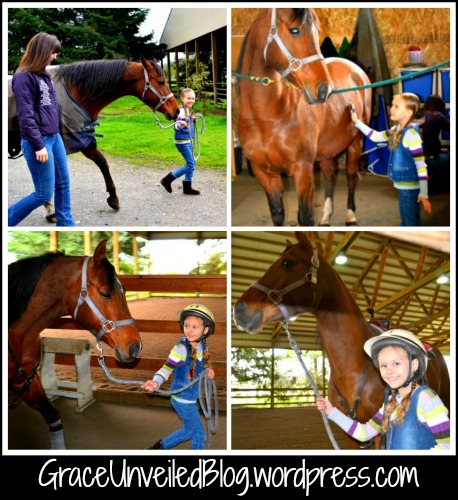 This was Muppin's first lesson for riding and as you can see she is thoroughly in love already!  Right from the start she was given the opportunity to do things for herself, something that I loved.  My heart did skip a beat when she was standing next to that huge animal… she looked so small!  But she had no fear and lapped every second up.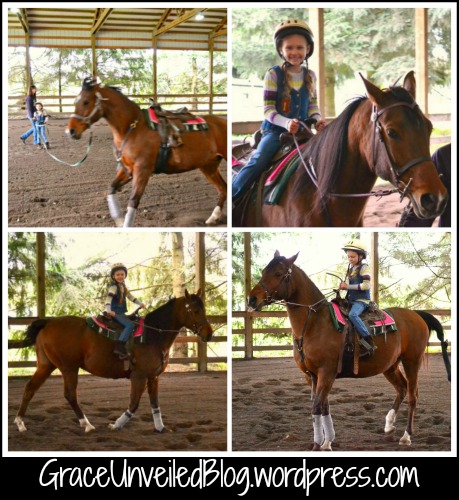 She got to do everything that you would need to do to be a good rider.  The only thing left to her trainer was saddling the horse, she was a bit short to do that 😉  But still, she helped with that part too.  She has a great trainer (Josie at Gillespie Performance Horses) who shows great kindness to her and the horse.  Muppin was riding by herself within in about 10 minutes and did wonderful.  I was shocked really.  She is truly a natural (in my untrained eyes of course).. and truly in love!  That is all I have heard about over the last few days, and I love it!
It is time to get out her horse unit study again and start adding to it!  Her book is getting big and so is her smile.  Do something fun with your child today in your homeschool!