Well life has been busy in our home due to lots of homeschooling, horse riding, drama and other extra-curricular activities that come with being a homeschool family.  Not to mention church, serving in different ministries inside and outside of our church, my personal business (Thirty-One Gifts) which I love and regular family life!
My Muppin's school work got more intense this year and she is doing amazing.  It isn't without it's bumps and bruises along the way though.  I am just thankful that our fall this year has been incredibly warm and wonderful because she loves doing her work outside!
Even with all her hard work it amazing me she finds time to do some amazing things for her family… for example, most recently my and my husband's anniversary.  She is amazing!  Let me show you why!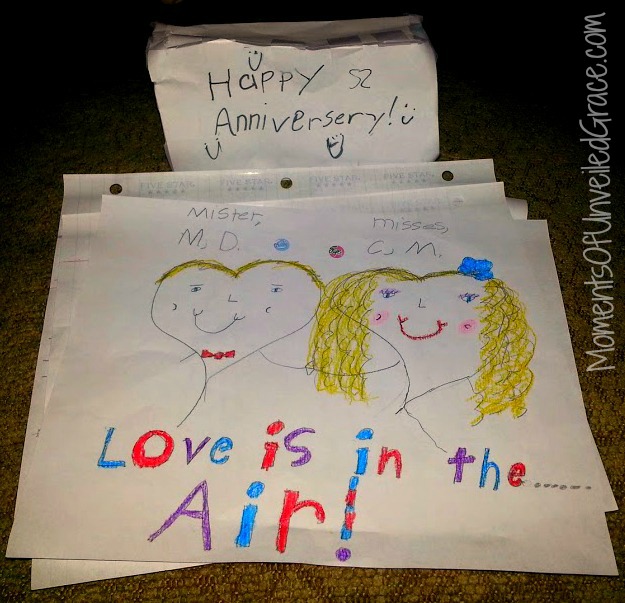 As you can see she went to a lot of work to draw and write poetry for us, but that wasn't all!  She also performed a show for us!  Below is her show program, and inside it lists her poems she wrote for us and funny clips she performed.  She truly is an inspiration in our home.  And she was fabulous!
Here is her first poem.
"Happy Anniversary Poem"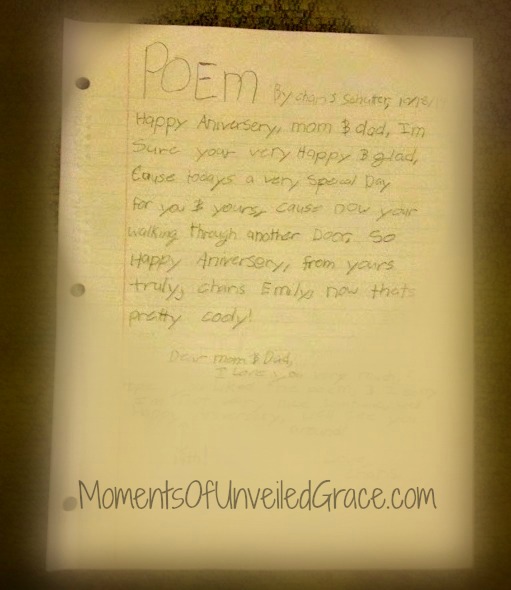 Happy Anniversary, mom & dad.
I'm sure you're very happy & glad,
Cause today's a very special day,
for you & yours,
now you're walking through another door.
So Happy Anniversary from yours truly,
C…. E…., now that's pretty coolly!
She is pretty amazing isn't she!  Here is another one she wrote and performed.
"I Love My Parents!"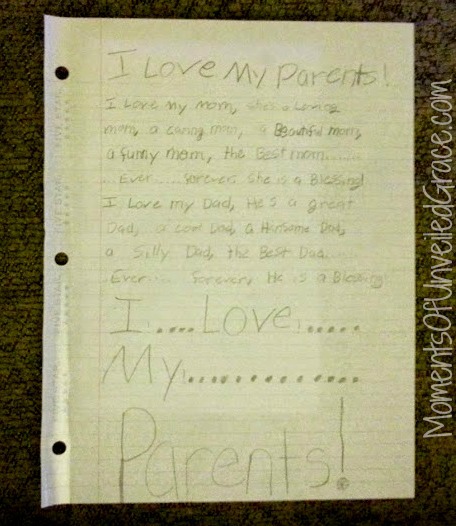 I love my mom,
she's a loving mom,
a caring mom,
a beautiful mom,
a funny mom,
the best mom…. ever…. forever.
She is a blessing!
I love my dad,
he's a great dad,
a cool dad,
a handsome dad,
a silly dad,
the best dad…. ever…. forever.
He is a blessing!
I…. Love…. My…. PARENTS!!!!!
And if that wasn't enough!  You know, writing poetry, performing it, drawing pictures and stuff… she also created rings for us and gave them to us to wear as a reminder of our vows 19 years ago.  She is truly a blessing and I am honored to get to be her mom!  Her heart is so full of love that I can't wait until she get's to be a mom someday and share that love with her kids… I mean… I can wait… lol… I can wait a LONG time! lol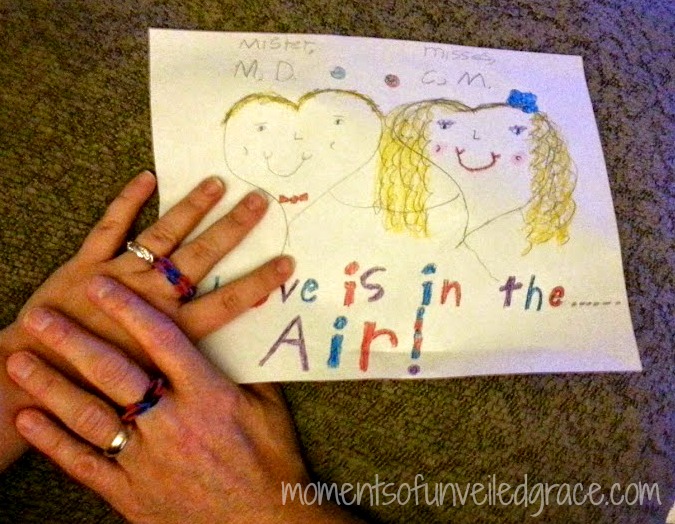 Poetry is copyrighted by this blog… please do not share without permission.