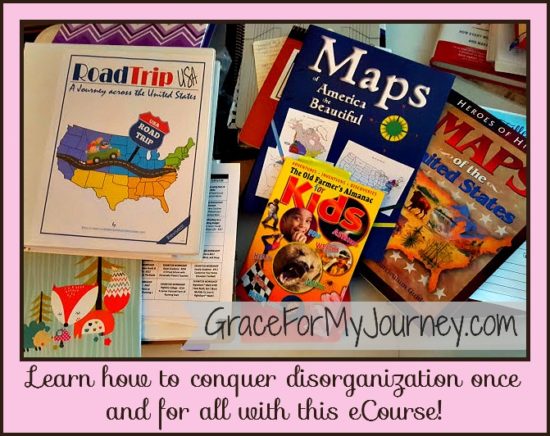 Disorganization, it is a threat to our sanity isn't it!? I know for myself if I start to get busy and I leave things for later, that disorganization can quickly creep in and make things absolutely miserable, especially when it comes to homeschooling.  I don't know about you, but with all the books and all the papers and art projects and pens and pencils (the list is endless) things easily build up and get out of hand.  Not to mention getting organized and setting up your homeschool to start with.  Where do you even begin? What do you do when things fall apart?
Let's keep it real… disorganization is a problem for me!
I have been homeschooling for 5 years now and I have picked up many things that have helped me along the way.  But I still struggle with it all.  I am a fly by the seat of my pants kinda girl and it often gets me in trouble in the area of organization.  So yes, disorganization is still a problem for me.
Let's just keep it real… I am not a perfect mom, wife or housekeeper, nor am I a perfect homeschool teacher.  Life is messy, the house isn't perfect, we don't always look perfect or act perfect, and homeschooling isn't perfect either! But what I am is this, I am willing to continue to work on things so that I can give my family the best I have to offer. I don't give up!  We don't need to be perfect but we do need to try our bests, and that is something I am more than willing to do.
Well, in my search to conquer my disorganization I have found an incredible ally in my fight to do better in Kristi Clover at Raising Clovers!  She is amazing!  I have been watching her on Periscope and now on Facebook Live for quite a while and her hints into things regarding organizing my homeschool have been amazing!
The Ultimate Homeschool Organization eCourse!
This is a sponsored post that contains affiliate links.
I am so excited to share with you that Kristi has a brand new eCourse on organizing your homeschool!  What!?? Yes indeed!  I just about had an excited meltdown when I found out.  I quickly contacted her and asked if I could review the eCourse for all of you and she said yes!  So here goes, I am going to share with you what I love and don't love.
I have to tell you friends that it is totally worth every cent of the full price. It was very impressive when it came to the amount of work Kristi put into this eCourse.  I wish I had something like this over 5 years ago when I first started out. It sure would have saved me from so many headaches and hours of trying to figure out things all on my own.
What to expect from this eCourse.
Each section has a video with notes already printed below the video so that you don't have to take them unless you want to.  For me that was wonderful, I am a visual learner so watching was perfect but if I had questions I could go back in later and look under the video and see all the notes right there, easy to access.
I also loved that each video also had a list of supplies needed. She included a lot of printables (do you love printables as much as I do) for you to use so you do not have to figure that part out on your own.  Those printables often included an example that showed you how to fill them out. Awesome!
There were 3 main units with several lessons each.  The first was "Prepping & Planning," the second was "Organizing with Systems," and finally there was "The Nuts and Bolts."
I loved the Prepping and Planning section and wish I had it before now, I plan on adding several things she has suggested.  This section talked about how to prep and plan for your homeschool year and creating routines (vs. schedules) for your school day.  I can feel my disorganization is starting to slip away!
In the Organizing Systems I loved the crate system!  I also love hearing about her filing system.  As a homeschool mom of an only child some of it wasn't necessary for me, but still very helpful.
I also found many of her other systems she talked about such as, the Workbox, the Whiteboard and the Binder system very interesting.  It took me a while to figure out that these didn't all need to be used at the same time and that they were options to intertwine together however worked for you.  Before I realized that though I was a tad worried that this system would be way too much work for me but I was quickly put at ease when I realized that she was showing us options for different styles of organizing, not that they were all had to work together.
In the last section Nuts and Bolts she talks about how to organize your books and homeschool rooms, how to homeschool with littles and motivating your kids! I loved some of her motivational ideas for her kids!  She also had a section talking about Q&As where she wanted to make sure you knew how to get a hold of her on social media or by email because she wants to be available for you if you have questions.
Sometimes we just need someone to ask, "Am I on the right track and doing this right?"  Well Kristi wants to be there for you and I have seen her do it so I know this will be invaluable to those who need the extra help.
Does this eCourse help conquer my disorganization?
All in all I find this to be a rock solid deal for an eCourse that is sure to get you on track for your homeschool year.   I couldn't possibly go over everything she offered in her eCourse. I love her heart and that she priced it so well to make sure homeschool families could afford it.  She knows how a one income homeschool family needs all the help they can get in the budget area. 😉
Kristi is very engaging and easy to understand and she has gone to great lengths to make sure you can understand all the steps for her processes.  If you are looking to squash disorganization in your homeschool once and for all, this is the way to go.  I am rating this eCourse 5 stars due to the quality of content and because it was easy to watch and read.  It was wonderful because I didn't spend hours watching videos to only sit back and wonder if I knew any more after the course than I did before.  I was pleasantly surprised and bedazzled!
How to get her eCourse!
Click on any of the links in this post to get this amazing eCourse and to take advantage of her flash sale. You can also click the button in my sidebar for the Ultimate Homeschool Organization eCourse.  Both will take you right to the sign up page. I hope you find this review helpful and that you are truly blessed by Kristi's new eCourse. I know I have been!
Disclaimer!
Please know that I work with Kristi as an affiliate for her eCourse. If you click on my links and purchase her product I will make a small commission. Regardless of whether I receive a commission, I only recommend products or services I use personally and believe will be good for my readers.
Want more homeschooling tips and ideas, check these out:
What was on your homeschool curriculum list last year?
How to make geography fun and exciting!
Are you willing to be courageous and homeschool?
10 great ways to get your kids excited about writing!
These 5 simple steps will conquer your homeschool blahs!
One thing that makes homeschooling remarkably effective…
Save
Save
Save
Save
Save
Save
Save
Save
Save