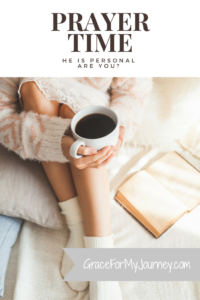 Cultivating a Relationship
Cultivating a relationship with God can be more difficult than we can image.    Though it is truly a simple process, as "higher thinkers," we tend to muddle everything down into too many plans and too many actions for our own good.  I am included in that category!
I have spent way to many days looking up all the ways in which to get closer to God, the internet can suck you dry if you let it, and too many hours reading the next new shiny book or listening to the next preacher, teacher or pod-caster tell me what I should be doing to get closer to God.  The sad thing is that the best way to get closer to God is the last thing I seem to do because I am too focused on all those other peoples opinions!
So today I am going to with you how I cultivate a relationship with God, instead of just listening to and watching others do it!
Just Talk To Him!
Yep, I said it! Pray!  It isn't rocket science and there is nothing particularly special you have to do but you do have to get out of yourself and talk to Him!  Again this is a place where our brains can get in the way.  We start asking ourselves too many questions and then we believe lies fed to us by the enemy.
When I start chatting with God, too unspiritual (Is unspiritual a word)??? OK, praying with God I do something first. And that is to ask the Holy Spirit to Guide our conversation and it goes something like this: "Holy Spirit, I come to you now and give you permission to search my heart, mind, will and emotions and lead me in the direction you want to go."
That's it. Simple. But I am giving the Holy Spirit permission to be in charge! He is kind, noble and a gentleman, waiting to be asked in! Ask!
Also, my ideas of what is write to talk about are always selfish. This way, when I do ask for myself, I believe the Holy Spirit is part of it and He always takes me other places too, so I know He is working and not just me. Ask Him and trust that He will show up and talk to you too!
Reason's Not To Pray
We all make up reasons we don't pray. Do any of these reasons not to pray sound familiar?  I don't have time. I don't know what to say? Does He even hear me?  He has better things to do? He will be upset with my request. That is a stupid thing to pray for.  He doesn't care about that! My sin is too big for Him to hear me.  It takes too long to pray.  He won't say yes or no!  These are just a few things that go through our minds but they are just lies.  God does want to hear about every single thing that you have to say and every single concern of yours.  Don't let your doubts and fears and human ideas get in the way of cultivating a relationship of prayer with Him.  Prayer by the way is nothing more than talking with the God of all creation! It is building relationship.
I bet if you look back on your best relationship here on earth, there are some deep chats, then there are some that are superficial and unimportant and some that are down right silly. God wants all of those with you. All 😉
How To Pray
Now, the best prayer is the one you will do.  I shared above what I say before I pray. I always ask the Holy Spirit to be with me first and to guide our conversation.
Whatever method you use, I hope that you try it for a while, and not just keep searching out the next shiny new thing. 😉 Here are some ideas to help you out.
1. Start out by just chatting with God and then maybe  decided to journal with him, write it all down. It worked for me 🙂  I love journaling what I have to talk to God about and praying with Him over those items.  I love it so much because I can go back and see where and when I prayed and how it was answered.  That is exciting!  And remember, LISTENING is just as important, if not more important that giving Him your list! 😉 Write down what HE said!  That is way more important than what we say.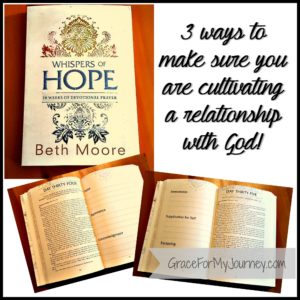 2. Right now I am using a book by Beth Moore that I found and I love it.  It is called Whispers of Hope, 10 Weeks of Devotional Prayer.  Every day it starts out with scripture reading and a devotion then you move right into prayer.  There are 6 areas for your prayer, Praise, Repentance, Acknowledgment, Intercession, Supplication For Self and Equipping.  I just write the basic bullets of what the needs are and use my words for the rest.  I found praying out loud keeps me on task and keeps my mind from wandering.  Another thing I love about this book is that there is a very short introduction that explains how to use the book, so you are able to start using the book right away instead of just reading what someone else says.
3. Here is a great article about prayer that uses examples from the Bible.  "Five Biblical Prayers That Teach Us How to talk to God." We don't need a journal or a book or anything other than our willingness to turn to a God who cares and a God who can!
God Adores You!
Whether you believe it or not, God is eagerly waiting to hear from you.  You are His precious child who He adores and a parent loves nothing more than a  relationship with their child, never forget that. Be confident that you are His passion, will you make Him yours?
I want to hear from you!
Now it is your turn, what do you do to make sure you spend prayer time with God so that you are continually cultivating a relationship with God?  If you are not doing anything right now, what can you do in the future?